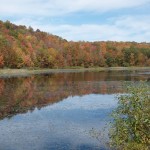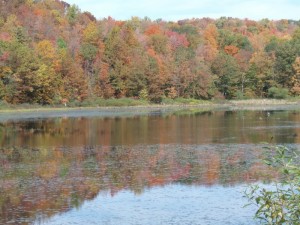 The PA Organzation for Rivers and Watersheds' (POWR) has announced the Conewango Creek as 2015 River of Year!
For the past twenty years, the Pennsylvania Department of Conservation and Natural Resources (DCNR) has annually recognized one river as the River of the Year. This recognition is done to raise awareness of the important recreational, ecological, and historical resources associated with the state's rivers and streams.
The River of the Year is celebrated throughout the year. Events have included paddling trips, a speaker series, clean up days, photography contests, and more. Partnerships of community groups organize the events including a Sojourn paddling trip. In addition, POWR coordinates the production and distribution of a free poster celebrating the river.
The Pennsylvania Organization for Watersheds and Rivers, or POWR, administers the River of the Year program. Local organizations submit nominations. POWR also helps organize and support local watershed associations, as well as the groups who lead a dozen sojourns on rivers around the state each year.
Pennsylvania's River of the Year honors have been presented annually since 1983. The past feature Rivers of the Year are:
2014 – Schuylkill River
2013 – Monongahela River
2012 – Stonycreek River
2011 – Delaware River
2010 – Lackawaxen River
2009 – Lower and Middle Susquehanna River
2008 – Youghiogheny River
2007 – Lehigh River
2006 – Three Rivers
2005 – West Branch Susquehanna River
2004 – North Branch Susquehanna River
2003 – French Creek
2002 – Delaware River
2001 – Juniata River
2000 – Kiskiminitas-Conemaugh River
1999 – Schuylkill River
1998 – Youghiogheny River
1997 – Lehigh River
1996 – Tulpehocken Creek
1996 – Clarion River
1995 – Upper Delaware
1995 – Juniata River
1994 – Allegheny River
1994 – Susquehanna River
1993 – Meshoppen Creek
1993 – North Branch and Main Stem Susquehanna River
1992 – Yellow Breeches Creek
1992 – West Branch Susquehanna River
1991 – North Branch Susquehanna River
1991 – Pine Creek
1990 – Catawissa Creek
1989 – Bear Run
1988 – West Branch Susquehanna River
1986 – North Branch Susquehanna River
1983 & 1984 – Clarion River