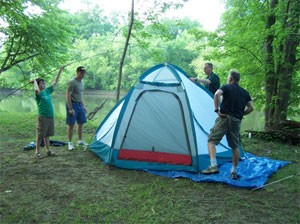 Camping on the Conewango
We now offer low impact water front camp sites! From the comfort of your own tent, you can spend the night fishing by camp fire light or wake to watch ducks speeding through the morning fog. Our tents only sites are hand cleared, spacious, and camper friendly. To show our appreciation, the first load of fire wood is on us! Have your own canoe or kayak? Bring it along. We offer shuttle service to and from our livery, or you can use the camp ground dock. So grab your gear and go with the flow on the Conewango.
We are a small, family orientated camp ground and to insure we have sites for you, we encourage reservations. We want your camping experience to be a fun, memorable family get away. Please do not bring pets, and alcohol may be consumed at your camp site in moderation. Also, please help us keep the area clean by using our trash and recycling bins.
Pricing for per Tent camping with up to 4 people:
$20 per night on a week day
$25 per night weekend (Friday-Saturday)
$110 to stay all week
We also offer an over night stay at a camp site and 2 separate trips for only $100! Call for more details.
Holidays have 3 night minimum, week day price
Check back often for updates.