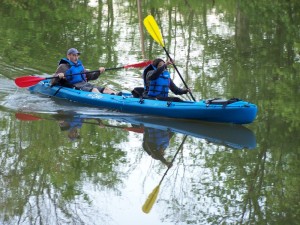 For the following trips we transport you to a launch site, and you paddle down stream to CKC. All of the trips are on flat water (meaning calm water-no rapids) and are very remote. *****ALL MILEAGE AND PADDLE TIME IS APPROXIMATE.*****
(Double Kayaks are the same price as canoes)
LAZY DAY TRIP
6-8 hours $58/canoe or double kayak $48/kayak
The trip begins at the North Frewsburg launch site. This portion of the Conewango is part of the Marden E. Cobb Waterway Trail which meanders through forest and farmland. It is not only remote but also peaceful. Even thought the water is slow, the deepest spot you go over is 52 feet deep. A perfect spot to stop for a lunch, which is also your half-way point, is Clam Island. Please see Clam Island Trip for more information.
THE ROCKIN' RUN
4-5 hours $48/canoe or double kayak $38/kayak
The launch site is directly off Route 60 heading into the village of Frewsburg. This trip entails all of the features of the Lazy Day Trip,including Clam Island.
CLAM ISLAND
3 hours 3 miles $43/canoe or double kayak $33/kayak
We launch the boats and you paddle north for approximately 15 to 20 minutes. A dock is located on the west side for access to the island. A picnic table and facilities are available on first come first serve basis. Clam Island originates from the history of the Native Americans who once inhabited the area and harvested shell fish from the creek. The shells are strewn across the island, hence the name! You can get out and explore the island or paddle around it. When you are finished, you paddle south until you reach CKC.
2 hours 2 miles $38/canoe or double kayak $28/kayak
This trip beings at the NY PA launch site. Because it's a short and easy trip back to CKC, this trip is recommended for families with children, beginners, and people with limited time. The Marden E. Cobb Waterway Trail connects to the Conewango Creek Waterway Trail at this launch site.
BY THE HOUR
As long as you want (minimum charge is 1 hour) $18/canoe or double kayak $13/kayak per hour.
Not sure if kayaking or canoeing is for you? Take an hour take a few, test it out and see if it's for you! We launch your boat here at CKC, and you paddle either north or south for as long as you'd like. When you are ready, just paddle back to CKC.
The geography of the creek dramatically changes after the Russell launch site, and the banks change from clay to rock. The creek becomes quite shallow in certain spots, and you may have to walk your boat if it's too low. Therefore, these trips are available depending on water conditions. You are also going to paddle through class 1 rapids, which means that the water is moving quicker and can be rough. We do not recommend these trips for beginners or families with young children.
BRINGING YOUR OWN KAYAK/CANOE
We provide a shuttle service for people who bring their own boats. However, there is a $15 charge per boat.